Testimonials

THE NORTH SHORE'S BEST KEPT SECRET
In July my daughter and I had the pleasure of experiencing Katie's Cooking from the Hearth's
food, or more appropriately Cooking from the Heart

❤

Katie is a very talented chef and pastry artist/artisan bread maker. Once one has had the opportunity to experience Katie's food, they will realize that she uses only the finest ingredients, and her artful presentation skills offers a feast to the eyes as well as the stomach! Katie offers quite the culinary experience, she has the unique gift of bringing the individuals part of a dish together beautifully! Some of our favorites was her uniquely flavored Tuscan Shrimp with Angel Hair Pasta....Grilled Salmon with lemon and dill marinade, asparagus perfectly cooked and baby roasted heirloom potatoes...yummy! Her popovers are heavenly, not to mention a whole host of other goodies such as her variety of scones, pies, cookies, caramel squares, wheaten bread (where I felt like a little taste of home) and not forgetting her amazing sourdough bread! Katie from CFTH produces quality food...and my daughter agrees she said "mum her food is amazing....I can't believe she doesn't have a restaurant". I'm in total agreement...I think Katie produces restaurant quality food, that is versatile to suit everyone's palette. JCG.
"We love having delicious food produced by a superb cook in our own kitchen. Katie uses wonderful fresh ingredients and leaves the whole kitchen sparkling clean!" L.P.


"Katie cooked for my mother for over two years and was a wonderful companion as well.
Katie cooked from our recipes as well as bringing her own repertoire to the mix." Lois R.
I employed Katie from "Cooking from the Hearth' to host my daughters graduation party.. From the first bite of the appetizer pizza and tarts she had prepared, we were all in heaven.. The food was incredible from start to finish . The recipes were very unique and cooked to perfection and from the Heart! Katie's outgoing personality was an added bonus and I have no hesitations in recommending her for future events. You will not be disappointed! Amanda.B.



Have you not tried any of Katie's baking yet? What are you waiting for?? I just had the good fortune of eating one of her strawberry apple scones. I can say without a doubt it was the best scone I have ever had in my life. The lightly crisp crust, the perfectly moist inside, and the fresh fruit are all complemented by the copious amounts of love put into its creation. The only problem is that there aren't any left, and I want more. I could probably eat 50 of these things. Do yourself a favor and get some now!
Jared P.



---
Powered by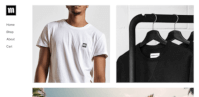 Create your own unique website with customizable templates.